A lot has progressed since I first posted the central parts of MetaV. At that time, I had only converted and indexed the text of the Bible itself. Since then, I've managed to add cross references, topics, time lines, readability info, Strong's Concordance, and locations. I've even made a number of tools to explore each "module," and one to explore the timeline, places, and text all in one place. But, what's next? The diagram below shows the modules I have envisioned so far to include in the database. Black outlines indicate areas of future development; white outlines are completed modules (tables).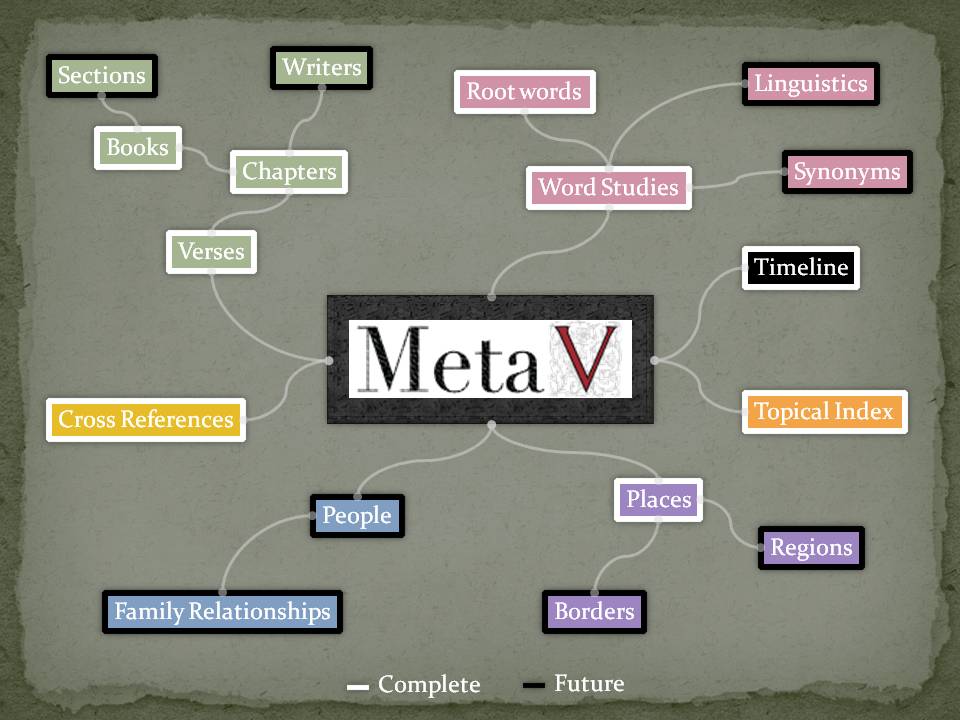 Each sub-group has at least the main part of it complete, with one exception: People. What can I say? People are messy. I know there are a number of genealogies out there and a number of tools produced to explore them, but finding an openly available one in an appropriately structured file that's free for public use is proving difficult. Therefore, I expect it will take significantly longer to compile such a reference on my own using what I've scraped together so far.
I have chosen not to upload the updated database until I at least have people identified and tagged with basic relationship information (father/son, husband/wife). After that iteration is complete, I'll make that available and begin work on the remaining modules and other refinements at the same time as producing new, simple tools to explore the database. Any estimate on how long that will take would only be a guess.